WorkAbility
At this 55,000-square-foot facility located in Inman, approximately 200 men and women complete work for both local and national manufacturers and businesses. Jobs include assembly work, distribution, storage, warehousing and more.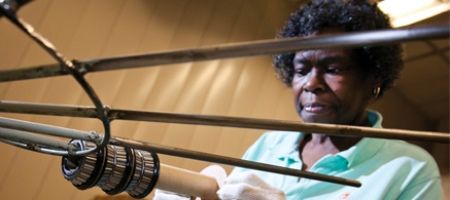 More than 100 companies use or have used WorkAbility. They have contracted to perform projects such as working on ignition switches and fuel lines for golf carts to making military tie-down straps for the U.S. Department of Defense and completing industrial sewing contracts for nationwide companies. Our trained workforce is versatile and reliable.
In addition, men and women employed at WorkAbility have the option to train for other jobs, and are encouraged, based on their skills, to apply for community jobs.
Enclaves
In addition to the work complete on-site, WorkAbility provides community employment options including enclaves, where groups of five to 10 individuals supervised by WorkAbility staff, work onsite at companies across the Upstate. An enclave is often able to seamlessly blend into the workforce.
More Info
For more information about WorkAbility please visit their website here.
Or, take a few minutes and click here to watch a video about WorkAbility.
To contact WorkAbility call (864) 472-7400 or click here.