Cutomized Career Network
The Charles Lea Center's Customized Careetr Network (CCN) provides men and women who want to work, employment opportunites in the community.  The CCN partners with businesses which provides jobs, while the CCN provided training and support, for as long as needed by the individual.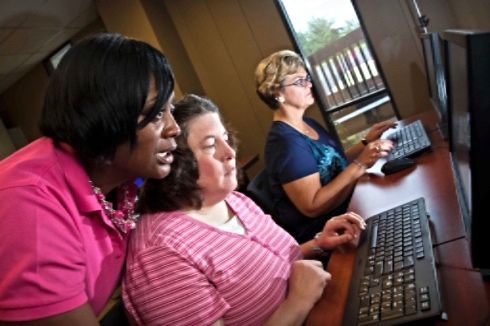 Process
Each participant in the CCN program first will engage in an in-depth assesment meeting that idenifies the individual's skill set, interests and ideal job setting. An individual plan, based on the principles of person centered services, is developed and each participant is matched with an experienced and goal-oriented career counselor who will teach them skills, develop a networking stratedgy, as well as help build confidence.
What We Provide
The CCN department offers an array of classes and training opportunities to help the person successfully prepare for work, learn basic job skills and maintain their job. Classes are held in the Customized Employment Training Center, which is located at WorkAbility. This space includes classrooms and a computer lab which is equipped with desktop computers, iPads and laptops.
Why Use the CCN?
Adequete preperation is absolutely necessary in searching for jobs and finding meaningful employment. The CCN department trains individuals to work with local employers who will value and appreciate their skills.
The CCN staff is the extra set of eyes, ears and the voice that will represent the individual through the process of transitioning to work. 
More Info
Please take a few minutes and click here to watch a video about the CCN.
To contact CCN call (864) 472-7400 or click here.