Behavior Supports
The Charles Lea Center is proud to have a Behavior Supports department, which is dedicated to behavior supports for the men and women in our care, staff and families to utilize. Through the use of Positive Behavior Support, our clinicians work on determining the cause of maladaptive behaviors and teach replacement behaviors.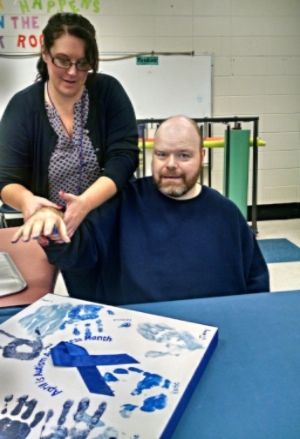 Caroline has a strong background in autism and ABA (Applied behavior analysis) therapy. Marcia has been with the CLC family for nine years and has worked in many different settings; which adds great insight to the interworking's of residential and work settings. They work as a team to evaluate and assess individuals who have displayed maladaptive behaviors. Then, they are able to teach staff how to implement programming to reduce maladaptive behaviors and teach replacement behaviors. The clinical team is able to go into the residential homes as well as the day program or WorkAbility to evaluate, assess, and teach new skills.
Process
To make a referral to behavior support services, the individual must have had five instances of problem behavior in a thirty (30) day period. Problem behaviors can be one or any combination but are not limited to the following: property destruction, aggression (verbal or physical), self-injurious behaviors, and/or extreme profanity. 
Once behavior support services has received the referral information, someone from the department will reach out to set up-time for an interview and direct observations of the individual. Several direct observations may be needed as well as additional ABC data collection to determine the function of the problem behavior(s). After the BSP (behavior support plan) has been developed, training will be set up for the staff to understand how best to work with the individual as well as receive training on data collection and how to implement behavior change strategies. From there the BSP will be monitored and adjusted as needed.
More Information
For more informaion about behavior supoprts email behaviorsupports@charleslea.