Who We Are
The mission of The Charles Lea Center Foundation is to raise awareness about the Charles Lea Center and to provide funds, primarily from the private sector, to assist the Center's mission of improving the quality of life for those with disabilities and special needs. 
The Foundation was established in 1985. Donations of cash, stocks and gifts-in-kind to the CLC Foundation are generally tax deductible.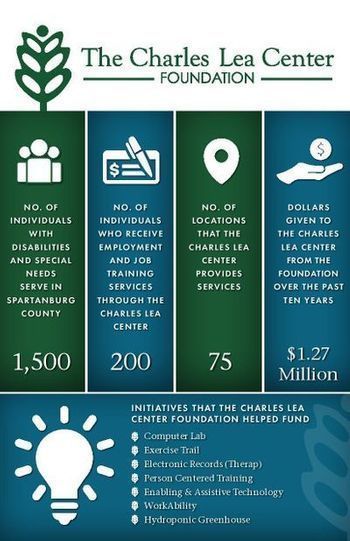 The
Asa Ramirez - CLC Foundation Board Member
A number of fundraising mechanisms offer ways to contribute:
Annual Fund Drive
Each year in November, an annual fund solicitation letter is sent to a broad list of prospective donors (including past and current supporters) seeking contributions for the CLC through the Foundation. 
The Gil Hooper Society of Giving
The Charles Lea Center Foundation established the Gil Hooper Society of Giving as a leadership giving society for donors who wish to make unrestricted gifts at an amount that can make a significant impact on annual grants and operations. Named for the CLC's founder and first executive director Gilman S. Hooper, the starting membership gift is $1,000 (cumulative) annually. 
Annual Fundraising Events
ROAD RALLY

One the Charles Lea Center Foundation's signature fundraising events for 36 years is "a scavenger hunt in a car" which leads carloads of participants through a mystery or puzzle with driving clues that take them around the community.  A fun, celebration dinner follows the rally with a DJ, dancing, family friendly games and prizes.  Sponsorships opportunities range from $250 to $10,000 and offer many great marketing options.  Tickets for our celebration dinner are $50 per person.

 

Lip Sync Battle Spartanburg

The Charles Lea Center Foundation is proud to introduce our new signature event!   We are bringing the hit reality show to Spartanburg's Jerry Richardson Indoor Stadium, Wofford College on Saturday, April 23, 2022.  This is sure to be a sellout.  Who will win the battle and "Rock the Mic?"

March Campaign Celebration

March is Developmental Disabilities Awareness Month.  To help raise awareness our goal is to fill up the March calendar with locally-owned business partners.  We will encourage community members to visit their stores/companies and in return the business owners will support us!   We are having a wonderful response by local merchants who are participating by either choosing a day(s), week or the entire month to host what we are calling a "give back" day(s) to the CLC Foundation.   We are so thankful for the support of small businesses and excited to urge everyone to support them as well.  Essentially, these businesses are making "Dreams Possible" for our 1,500 individuals with special needs and disabilities right here in Spartanburg County.  We like to call our partners "Community Champions" and we appreciate their commitment to help us spread awareness and raise funds. This campaign is a collaborative effort and we want to make sure all the locally owned businesses in Spartanburg have a chance to participate.  Like the saying goes, it's the gift that gives back and right now… everyone helping us is a gift!

If your businesses would like to participate in our March "Give Back" campaign, please call Marisa Cecil at 562.2278.

What we need from you:

Date(s) you wish to participate in the month of March
Percentage you are willing to donate back to the CLCF
Your logo


"It is so heartwarming to see our community come together to help fund opportunities for the incredible individuals we serve at the CLC," Marisa Cecil – CLC Foundation President

Kiwanis Pancake Supper

For More than 40 years, the Spartanburg Kiwanis Club has put on a pancake supper to benefit the Charles Lea Center.  Food and paper products are donated by Denny's Corporation and Kiwanians sell space in newspaper advertisements and tickets to raise over $25,000 from this event.
 

RJ ROCKERS GOLF TOURNAMENT 
Brewmeister Mark Johnsen has hosted this tournament benefiting the Charles Lea Center for 18 years. This event has a loyal group of RJ Rockers beer-loving supporters! The tournament fills up every year with more than 30 foursomes.

Sponsorships range from $150 to $1,000 offering signage at a golf hole or green and marketing recognition the day of the event. $250 per golf foursome. 

 
Sponsorships
For more information on sponorships please contact Charles Lea Center Foundation President Marisa Cecil at (864) 562-2278 or marisa.cecil@charleslea.org.
Planned Giving
A planned giving program encourages supporters of the Center to consider bequests, trusts, gifts of real property, or life insurance policies. Several gifts of this type have been received in the Foundation's 25-plus-year history. Expertise in estate planning is available to the Foundation from current and former Trustees, and through the Spartanburg County Foundation, through which the Foundation's endowment is invested.
A special congratulations to Loreta Dylgjeri, this year's recipient of the Charles Lea Center Foundation's Elaine T. Freeman Award. Loreta, thank you for your dedication, commitment and advocacy to the Charles Lea Center Foundation. You are loved and very much appreciated.
Charles Lea Center Annual Meeting
---

The vision of the Charles Lea Center Foundation is that sustained financial resources are available to the Charles Lea Center for future generations.

---

 

Follow the CLC Foundation on Facebook & Instagram!