45 Years & Counting
It has often been said that families have chosen to live in Spartanburg County due to the services and care offered at the Charles Lea Center. That is a testament to the outpouring of community support the CLC has enjoyed since it opened in 1971. But long before then the Spartanburg community was known for caring for people with disabilities. That compassion is evident today as the CLC continues to receive tremendous support.
Originally the CLC housed the Speech and Hearing Clinic and the School for the Handicapped. Throughout the years those services evolved into the array of supports offered today. While adults, along with children, now receive services, this quote from the dedication of the CLC is as fitting today as it was when written.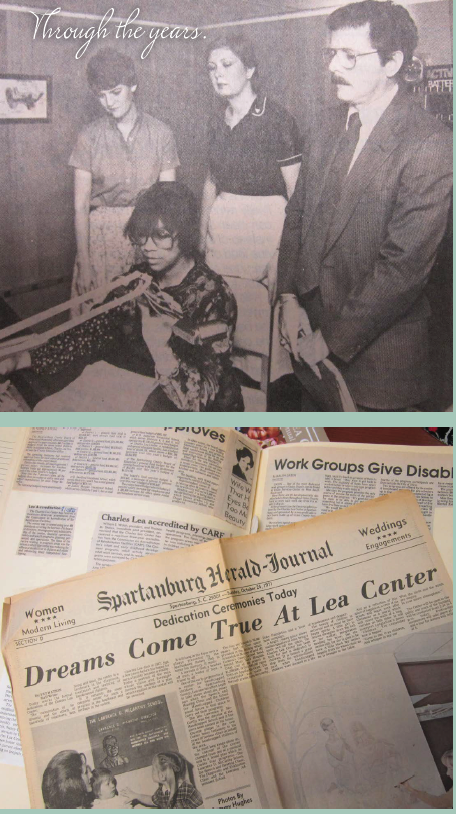 "The culmination of the dreams and efforts of hundreds of volunteers, both living and dead, the Center is a landmark in the diagnosis, treatment and training of handicapped children. It is certainly the most complete center for such a program in the Southeast and perhaps the nation."
Spartanburg Herald-Journal, October 24, 1971 
Dedication of the Charles Lea Center
---
Below is a timeline of impartment events:
1940s: Spartanburg begins to develop programs for the disabled

1960s: Partnership between the Speech and Hearing Clinic, The School for the handicapped and the Charles Lea Center forms

1971: A large facility housing the Speech and Hearing Clinic, The School for the Handicapped and the Charles Lea Center opens

1986: The Charles Lea Center Vocational Program Opens which is now called WorkAbility

1986: The Charles Lea Center Foundation forms

1990: WorkAbility moves to a new, larger campus off Business I-85

2003: The McCarthy-Teszler School moves into its own building beside the Charles Lea Center

2008: The Center purchases a new building for WorkAbility in Inman, and is officially renamed WorkAbility.

2009-2010: The Charles Lea Center completes an 18- month  program to move to a person centered program philosophy through a partnership with Support Development Associates

2011: The Center opens a state-of-the art computer lab for use by the individuals it serves.

2012: The Life Skills Center, 1,200 square-foot on-site facility is constructed to serve as a hands-on training facility that helps to prepare adults with special needs for living independently and as a part of the community.

2013: The Charles Lea Center introduces technology as a means to support individuals in their homes through a partnership with Simply Home.   CLC developes several new supported living programs including the CLOUD program.

2014: The Customized Career Network was established to provide training and assistance for community jobs.

2015: The CLC receives a three-year accreditation from CARF.  CLC developes two homes for medically fragile individuals.

2017: The CLC opens an eight-unit apartment complex in downtown Woodruff.

2018: The CLC opens a new campus in Chesnee, ChesLea. 

2018: The CLC expands into North Carolina, proving residential services.